FAQs
Frequently asked questions about Ordering and Purchasing
Please click here for 2019 HawkHill Price list of stock items you are likely to see on our stand at a show, and are available to order. Bespoke orders are more than welcome (see item 3.), and we don't charge a premium on altered heights.

1. I saw a table on your stand at an exhibition. Can I get one like that in a different colour scheme?
Yes, we can make tables, chairs, lamps and mirrors to any colourway that you care to suggest. You can facilitate this process by kindly emailing us photos of your room, or fabric samples, etc. We even have raw glass in shades of brown. Lisa is highly skilled in colour theory and interior concepts, and is happy to guide your creative concerns, while Colin is adept at all structural aspects concerning your project.

1b. What are the options for leather colours? Click here for Leather Colour chart
2. I saw something really unusual on your stand that I want to order next year. Can you make it again?
Most of Lisa's glasswork is essentially a one-off, an original piece of artwork. We take photos of all new work, so she can usually approximate a design again from reference, but it will be another original! Colin's work is recorded for ease of reference, and he can reproduce or modify previous frame designs. Occasionally an extra charge is asked for very complex pieces.

3. I would like you to make a furniture piece that isn't shown in your galleries. Do you consider special requests?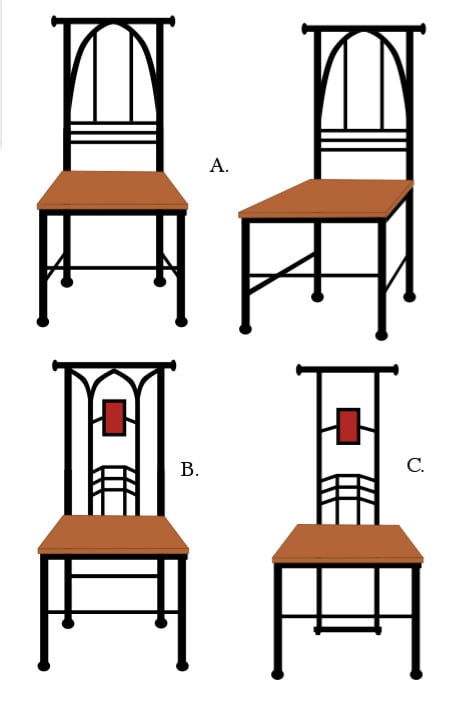 Yes! Many of the photos in our galleries originate from custom requests. You can propose projects to us, or we can suggest designs that will suit your space. We can produce skilled drawings using photoshop to help you visualise the framework when necessary.

4. How would something we ordered be delivered to us?
We generally deliver to your door for no charge if purchased from our stand at a craft event. If you are "off the beaten track" we try to accomodate by arranging delivery when we are as near to your area as possible. Sometimes this may delay your order by a week or two. We also like to "rendevous" at services on the motorway if the piece isn't too large for your vehicle. A small fuel surcharge is only applied if the location cannot be aligned with others during delivery.

5. What is your turnaround timing?
That will depend on time of year, materials required if your project is large or unusual, if we're in a busy part of the seasonal cycle, or if you are in an out of the way location, but we do try to get projects finished as soon as possible. That can be as soon as two weeks, more often 4 to 6 weeks. If you are interested in something we have in stock, we arrange to deliver the next time we are on the road, which is often!

6. Can you ship overseas?
We have a great shipping company for European deliveries for as little as £35 for a round coffee table (for example), plus at most a £35 crating charge. Please ask us about shipping to other parts of the world, and we'll happily get back to you with a quote from our new delivery company, which is very accomodating.
7. Can you post smaller glass pieces?
Yes, we don't currently have a web store, but you can order items from the Smaller Glass page or ask about glass seen at shows. Postage starts at £8. We'll give you pricing if you get in touch; we can take cards over the phone and we are TrustWave Certified.
8. I sent you a message, but haven't heard from you (?)
We endeavor to answer all emails as quickly as we can, and we can check for messages even whilst on the road. If you don't hear back within a few days, please check your spam folder. If we send you an email with an attachment (i.e. a sketch) it may get sent there, or on some occasions may be rejected altogether. In any case, just send another message with a phone number and we'll be certain to get in touch. If you have an older business card of ours, use the box on the Contact Us page, as one of our card addresses is no longer available. We have also added a phone number on the contact page, which we will happily answer if we are in residence. Please leave a message otherwise!

9. What is P Soup?
The name Primordial Soup, or "P Soup" refers to the Lisa's popular Primordial Soup series of glasswork, which has been "evolving" for over 14 years in glass form, and has appeared previously as watercolour and computer graphic depictions of microbial worlds. It depicts biomorphic and plant forms within the movement of a watery environment, celebrating teeming life out of sight of the wider world.
10. How safe is the glass?

We are pleased to report that our glass furniture pieces are remarkably well protected by the process of bedding and sealing the glass from above and below the edge in silicone, which acts as a shock absorber as well as holding the glass together in the extremely rare event of a sharp shock. In 15 years of making our furniture, we have had only a handfull of customers report breakages, all of which were repairable. Our glass is not "toughened" in the industrial sense, but the fusing process creates a piece 6mm thick which is very sturdy.
11. NEW from 2018
We have a new custom-made kiln installed in Lisa's studio, and we are creating larger splashbacks for kitchens, and installations for entry doors and wall art. We are experienced with installing projects ourselves. A ballpark figure for square footage of large glass projects: £165 per square foot. We can help you with calculations- foot measurement is handy because raw materials are sold that way. Prices may vary depending on complexity of project.
12. Can you supply art glass to be made into a table by ourselves?
Unfortunately, we have decided to call an end to supplying glass for other's home projects. We haven't agreed to do it often, because it dilutes our brand a bit, but more importantly, we can't ensure the safety of unsupported art glass that is not protected in the way we have developed over 18 years.