Lamps/Mirrors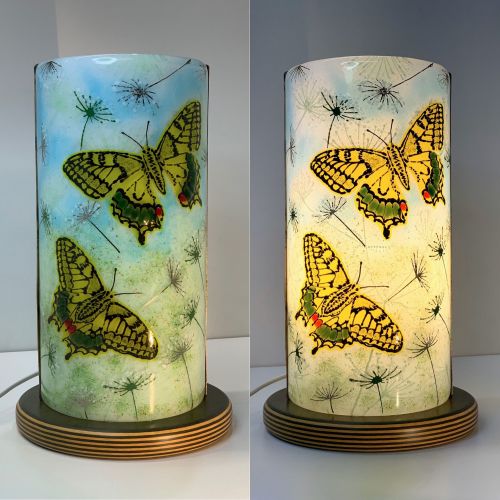 A sample gallery of our collection of hand made, functional and beautiful contemporary fused glass table and wall lamps using Edison screw LED bulbs. We usually make the bases with Richlite, an eco-friendly recycled paper and resin material- robust and with a smooth hand finish. Bases can also be made from various woods. Lamps are 33cm high and 20cm wide at base, framed on two sides with brass edging, and are quite solidly sturdy. Lamp prices range from £295-£335.

Also shown are several wall lights, 28 x 20cm, up to 50cm x 50cm, priced at £150.
Colin is standing next to one of two repro standing park lights designed and made by us for an Edwardian public school property.
We make a collection of mirrors- the black frames are made of aluminium for lighter weight, and they can be hung out of doors. Hanging all-glass oval mirrors are 41 x 31cm. Custom sizes available upon request.